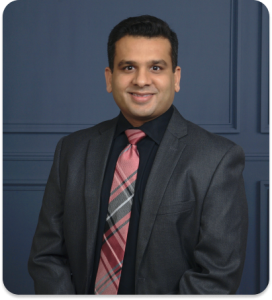 Dr. Mihir Bava is a passionate general dentist practicing in Raleigh, North Carolina. Just like his predecessor, Dr. Thomas Cooke, he grew up in New Jersey and moved to Raleigh after a wonderful experience visiting family. Dr. Bava completed his undergraduate studies at Rutgers University, receiving a Bachelor of Science degree. In 2014, he graduated from Tufts University School of Dental Medicine with his dental degree. Looking to further his knowledge, he pursued a general practice residency program at Hackensack University Medical Center in New Jersey. Since then, Dr. Bava has been practicing general dentistry in a private practice setting for over seven years.
Dr. Bava has been passionate about dentistry since college when a mentor introduced him to the field. Having the ability to shape, mold and improve someone's smile is what motivates him to do his very best for every patient. He strives to learn and implement new technology and new techniques via continuing education programs.
In his private life, Dr. Bava is married to his lovely wife, Dipal, and they have two beautiful daughters. When he is not practicing dentistry, Dr. Bava loves to spend time with his family doing outdoor activities, such as going to the park, playing hide and seek or tag in the backyard or playing pretend or board games. His daughters' favorite activity is weekend movie nights with popcorn.